Precision Medicine and Cell Therapy Symposium by NCKU Medical College and NCKU Hospital Cell Therapy Center with Kyoto University's Institute for Integrated Cell-Material Sciences (iCeMS)
Written by Mingchun Wu. Image credit to NCKU News Center and Medical College
The research on application of cell therapy on treatment of pancreative cancer by NCKU Medical College Dean Yan-Shen Shan at the Precision Medicine and Cell Therapy Symposium
Precision Medicine and Cell Therapy

S

ymposium

by NCKU Medical College and NCKU Hospital Cell Therapy Center with Institute for Integrated Cell-Material Sciences of Kyoto University (iCeMS, KU) on September 8 to 9, exploring the future collaboration for academic research, clinical applications and talent cultivation. Keynote speakers were NCKU Medical College Dean

Yan Shen Shan

(

沈延盛

), NCKU Hospital Cell Therapy Center Director and NCKU prof.

Yen-Wen Liu

(

劉嚴文

) and iCeMS Director

Motonari Uesugi

(

上杉志成

)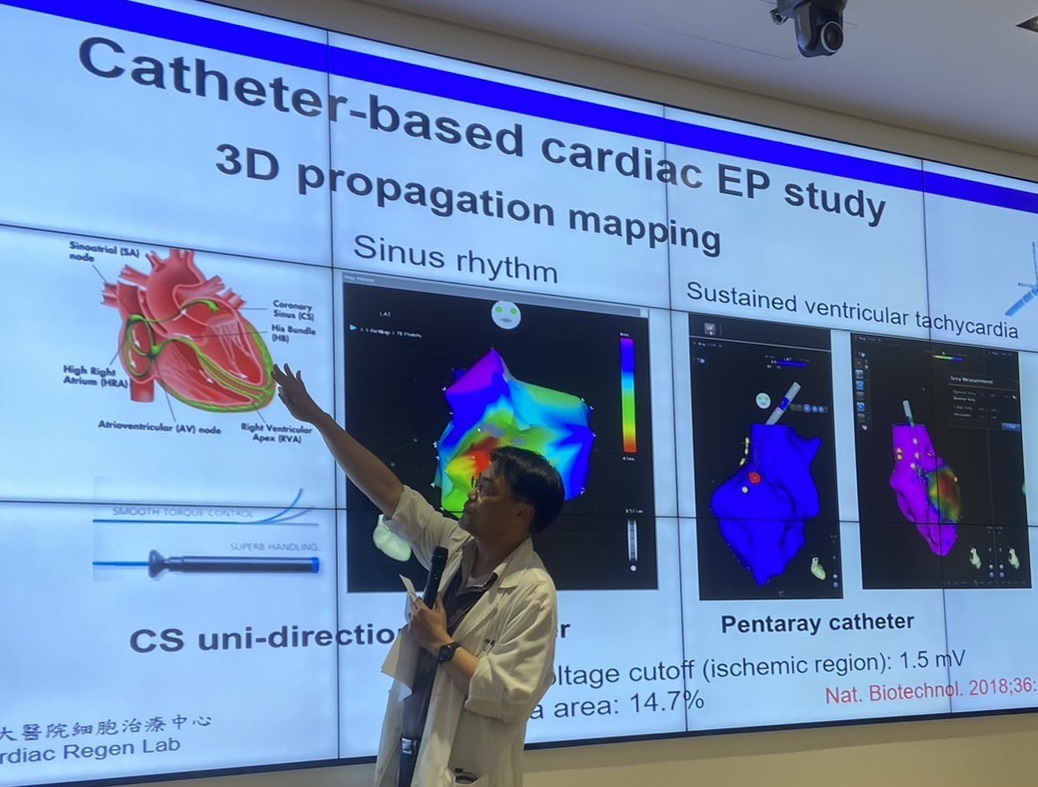 Current progress of cardiac regeneration therapy with human PSCs by NCKU prof. Yen-Wen Liu
My Journey in Tumor microenvironment esp. in pancreatic cancer

by NCKU Medical College Dean Yan-Shen Shan (

沈延盛

)
Self-Assembled Medicines
by iCeMS Director Motonari Uesugi
Regulation of plasma membrane homeostasis for next generation therapy
by iCeMS Prof. Jun Suzuki
Cytoskeletal force controlling cell motility during brain development
by iCeMS Prof. Mineko Kengaku
Genetic regulators of lipid droplet composition and their connection to diseases
by iCeMS Young scientist Ms.Wen Ann Wee
Development of a novel modality to remove unwanted cells in tissues
by iCeMS Young scientist Mr. Yuki Yamato
A system to collect organismic transcriptomes

by NCKU Prof. Po-Min Chiang (

江伯敏

)
Designing bioactive compounds with small data
by iCeMS Prof. Daniel Packwood
Transcription Therapeutics for Disease Treatment
by iCeMS Prof. Ganesh Pandian Namasivayam
Current progress of cardiac regeneration therapy with human PSCs
by NCKU prof.
Yen-Wen Liu (
劉嚴文
)
Towards regulation of nuclear numbers variation for disease therapy
by iCeMS prof. Sayuri Motani
Joint-on-a-chip device for screening novel OA therapeutics
by iCeMS prof. Dalila Petta
Other NCKU presenters included professors Chia-Jui Yen(

顏家瑞

), Kuen-Jer Tsai(

蔡坤哲

), Dr. Wen-Yan Huang(

黃文彥

), Po-Hsien Huang(

黃柏憲

), Chao-Kai Hsu (

許釗凱

), Chen-Yu Huang (

黃珍語

) and Yi-Chen Li (

李宜珍

).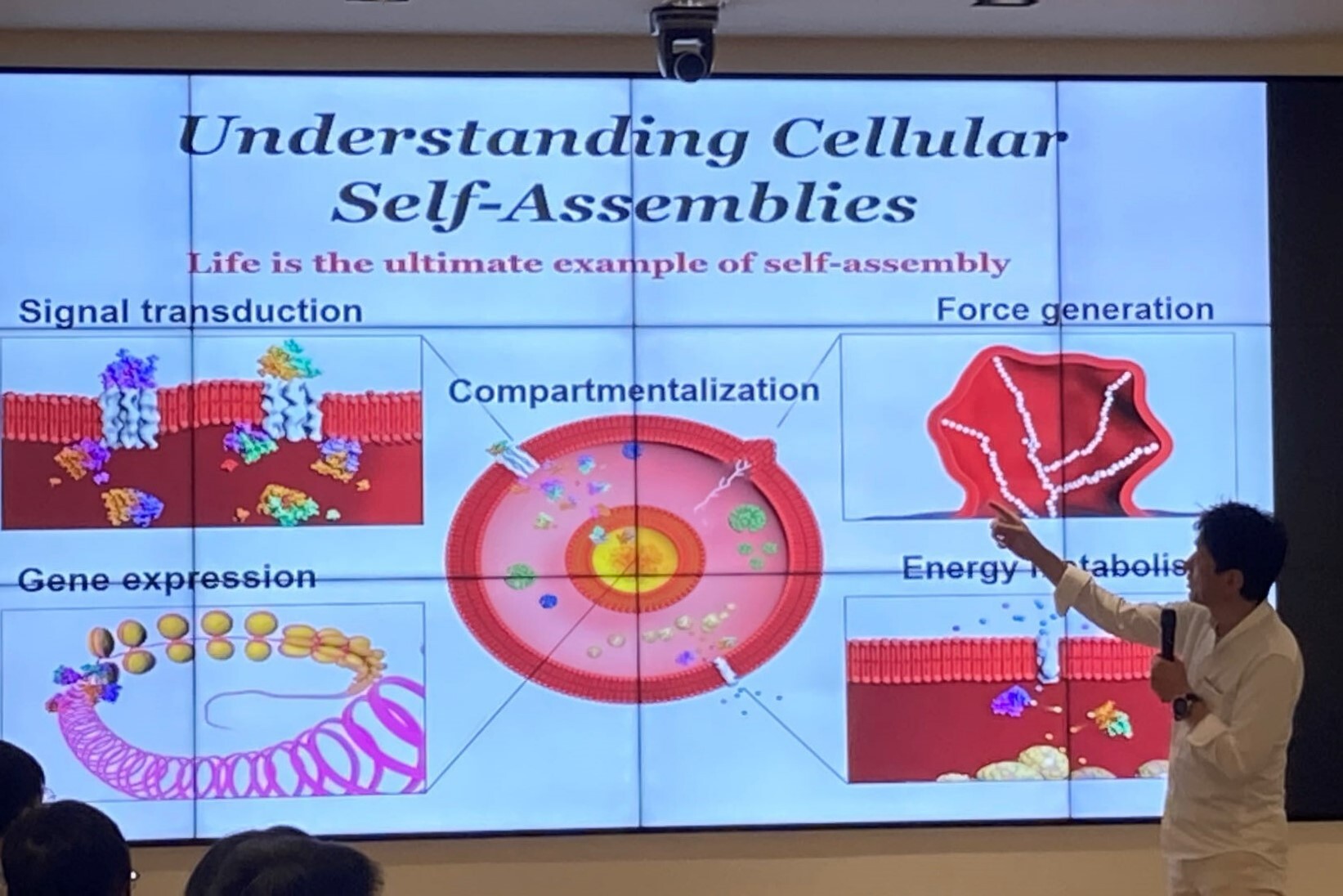 iCeMS Director Motonari Uesugi is an expert of chemical biology for application of bioactive synthetic molecules in drug discovery and cell therapy
"At Kyoto University iCeMS, we are investigating the mysteries of life by creating compounds that can regulate cellular activity with the goal of developing superior functional materials inspired by life's phenomena," stated Uesugi ."Cell Biologists, biophysicists, materials scientists, physicists, and bioengineers are combining perspectives from diverse backgrounds, and collaborating to find novel approaches to creating innovative research. These interdisciplinary efforts are essential for solving multifaceted scientific and societal challenges, such as global warming, environmental pollution, disease and aging-related issues. We will continue with our work, expecting that flashes of inspiration will lead to technological innovations and, moreover, a better world."
Cell therapy and biomaterials are frontiers of medical research. The two-day exchange allowed scholars from NCKU and KU to thoroughly discuss the various potential applications of biomaterial science in biomedicine. The discussions sparked innovative ideas and feasible research proposals, further strengthening the academic relationship between NCKU Medical College and Kyoto University. NCKU Medical College hopes that this bilateral meeting will pave the way for more exchanges and innovative research in the future, laying a solid foundation for the field of biomedical science.
NCKU and iCeMS researchers at Precision Medicine and Cell Therapy Symposium