2022 NCKU Entrepreneur Symposium: Building Smart College Town Together
Written by Hsu Tsu-Yueh. Image credit to News Center
Huey-Jen Jenny Su, President of NCKU, and Peter Chen signed on the

Qisda Jamboard Donation Ceremony
National Cheng Kung University continues making advancements in its smart technology campus and actively connects with the industry to build the future smart city. On March 18, NCKU held the Entrepreneur Symposium and Qisda Jamboard Donation Ceremony. Alumni were invited to share their insights on future innovations and business challenges. To give back to his alma mater and promote digital education, Peter Chen, Chairman of Qisda, donated Jamboard, a digital whiteboard that allows real-time collaboration, incorporating cloud technology, to create a innovative collaborative learning environment.
At the press conference, Huey-Jen Jenny Su, President of NCKU, and Peter Chen signed the Jamboard MOU on tablets and displayed the signature on the 55-inch Jamboard screen via cloud connection, demonstrating its technology of real-time cloud syncing.
The signature of Huey-Jen Jenny Su and Peter Chen were displayed

on the 55-inch Jamboard screen via cloud connection
Huey-Jen Su expressed that it was an exceptionally meaningful day for NCKU. After the university signed a MOU with Qisda in 2018, agreeing on collaboration in enhancing smart technologies for both parties, applications of smart technology can be seen on all parts of NCKU campus over the years. The applications on campus means more than a testing field for the industry, they also bring to light new challenges and feedbacks.
The first batch of Jamboard donated by Qisda has started to be put into use on NCKU campus. Huey-Jen Su recognizes that it may cause some stress for teachers to adopt teaching with Jamboard, however, she believes that both the teaching and administration of the university should take this change seriously, for that it is NCKU's responsibility to train its students in familiarity with new technology, cultivating them into future talents that can change the times.
"This donation demonstrates the appreciation and respect from cross-generation NCKU alumni for talent cultivation on campus. It also reflects the sincerity of the industry." Huey-Jen Su mentioned that, thanks to the support and resources from all, NCKU has been able to form strong links and achieve more, to explore further into future possibilities, and to become the NCKU that strives to push the world forward.
Huey-Jen Su recognizes that

it is

NCKU's responsibility to train its students in familiarity with new technology
Peter Chen, now Chairman of Qisda, graduated from NCKU Department of Electrical Engineering in 1985 and received the distinguished alumni award in 2018. To give back to his alma mater, he donated Jamboard on behave of Qisda, making his contributions to promote digital education, implementing smart technology on NCKU campus and paving the way for the future smart city.
Peter Chen expressed his hopes in planting seeds for innovative education for his alma mater. NCKU strives to connect with the globe and has successfully realized its prospects in the past few years, which is not a small achievement. "Therefore, our equipment cannot fall behind!" In addition to improving teaching equipment, he hopes to create a platform that allows more innovational breakthroughs, more collaborative learning, and more mutual creation. He expects to see the seeds of innovation to grow into big trees that brings mutual fulfillment to everybody with their interconnecting branches.
"I look forward to seeing Jamboard becoming the important agent that propels the realization of digitalization and smart technology on NCKU campus." Peter Chen added that the future world would be see less confinements from borders or limits and would require more collaboration. Learning is a matter that goes not one way, but two ways. Through mutual contributions and discussions, creativity can be enhanced. These years, the Qisda fleet operates on similar beliefs to work towards high-added-value industrial transformation through win-win investments and resource platforms.
Peter Chen looks forward to seeing Jamboard becoming the important agent

on NCKU campus
NCKU has been in collaboration with Qisda on realizing smart campus. In 2018, both parties signed a MOU on smart campus collaboration, combining the research and development energy of the academia and the industry, utilizing internet technology and information data applications to build a future smart campus town. Qisda assists NCKU in incorporating AIoT into the university's systems, efficiently connecting several resources systems within and outside of the university via a central management platform. In April of 2020, when footprints of confirmed COVID-19 cases of the Goodwill Fleet traced back to NCKU basketball courts, it was through NCKU's smart campus security system that allowed 14 contacts to be tracked down within one day. The quick reaction and tracking greatly helped in lowering community infection risks.
NCKU president, Huey-Jen Su presents NCKU souvenir " NCKU 90th anniversary Matsu kaoliang " to the Chairman of Qisda,

Peter Chen
At the press conference on the 18th, multiple simulations designed by Atelier Future were demonstrated via videos, and user feedback was collected to help Jamboard be more smoothly incorporated into campus activities, making smart technology part of daily NCKU life.
press conference of

Qisda Jamboard Donation Ceremony

on March 18th
At the symposium, NCKU distinguished alumni including Howard Lin, Vice Chairman of Fubon Life Insurance, James Jeng, Chairman of Kbro, and Peter Chen, Chairman of Qisda, were invited to give talks focusing on the topics of smart communication and e-commerce, looking into the future innovations and business challenges for the communication industry, enriching the students' view with energy from the industry.
Fong-Chin Su, Executive Vice President of NCKU, expressed that there are multiple aspects in global challenges, and that the symposium is related to the fast development of high technology. The university strives to interact with the industry, taking a page from the spirit of corporate management, hoping to build a common future with the industry. He thanked the three distinguished alumni and entrepreneurs for sharing their insights on entrepreneurship and innovation investments.
Howard Lin studied chemical engineering in university and received the NCKU distinguished alumni award in 2021. He had worked in the petrochemical industry for 15 years before he founded Fubon Life Insurance. Having taking official courses of EMBA, his knowledge on corporate management and investment assessment is self-taught. Lin generously shared his experience of founding Fubon Multimedia Technology (momoshop). He believes that the four critical elements of entrepreneurship are talents, fundings, product, and market. "Entrepreneurs must have unbreakable perseverance and must look for solutions instead of excuses in the face of difficulties," Lin emphasized. He added that the company has to make products beneficial to the society in order to keep a foothold in the battlefield-like industry.
Howard Lin gratuated from NCKU Department of C

hemical Engineering, he

said e

ntrepreneurs must have unbreakable perseverance
James Jeng graduated from NCKU Department of Electrical Engineering and received the distinguished alumni award in 2020. His talk focuses on the innovation and future for the communication industry in the 5G era. He mentioned that the 5G technology possesses the features of high bandwidth, low latency, and high connectivity, which were evolutional three years ago. At that time, he already considered 5G valuable in application. As the 5G era approaches, mobile and fixed-line telecommunication and limited bandwidth will be integrated. Jeng mentioned that in the new era, what is needed to found a new company is not large investments of money, but rather that of creativity and innovation.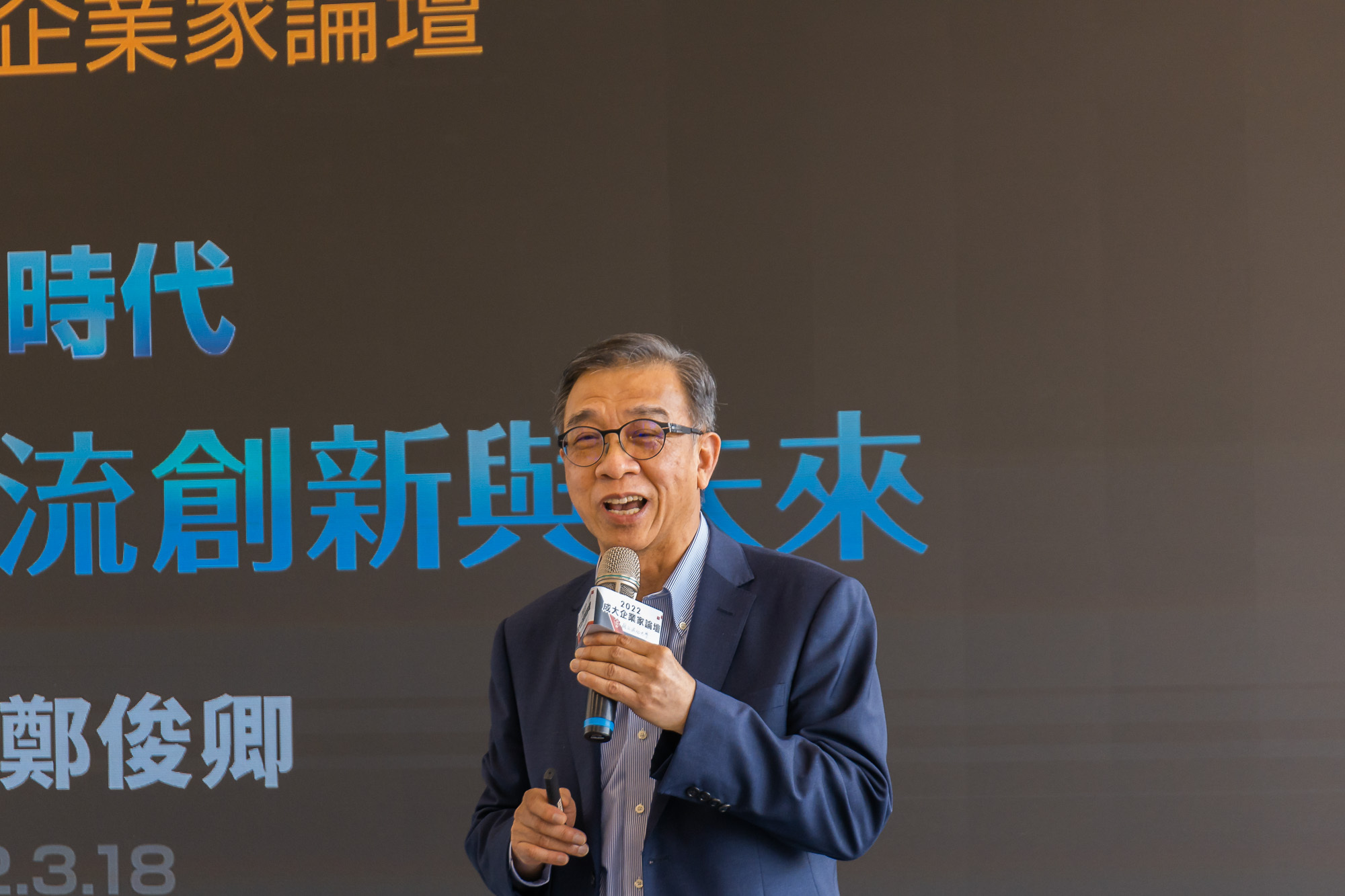 James Jeng graduated from NCKU Department of Electrical Engineering, he shared his perspective on 5G innovation and future
Peter Chen graduated from NCKU Department of Electrical Engineering and received the distinguished alumni award in 2018. He expressed that the low-earth-orbit satellite are now capable equipment for communication and that a new global space race has begun. As an example, he mentioned that after the conflict between Russia and Ukraine began on February 24, Ukraine President Zelenskyy send messages to Musk on Twitter, during which time the ground communication has been damaged and required communication support in space. The Legislative Yuan has passed the Space Development Law on May 31, 2021. Chen emphasized that "whoever wins the sky, wins the world," and pointed out that the global space industry output value reaches 371.3 million dollars, suggesting abundant business potential for future entrepreneurships.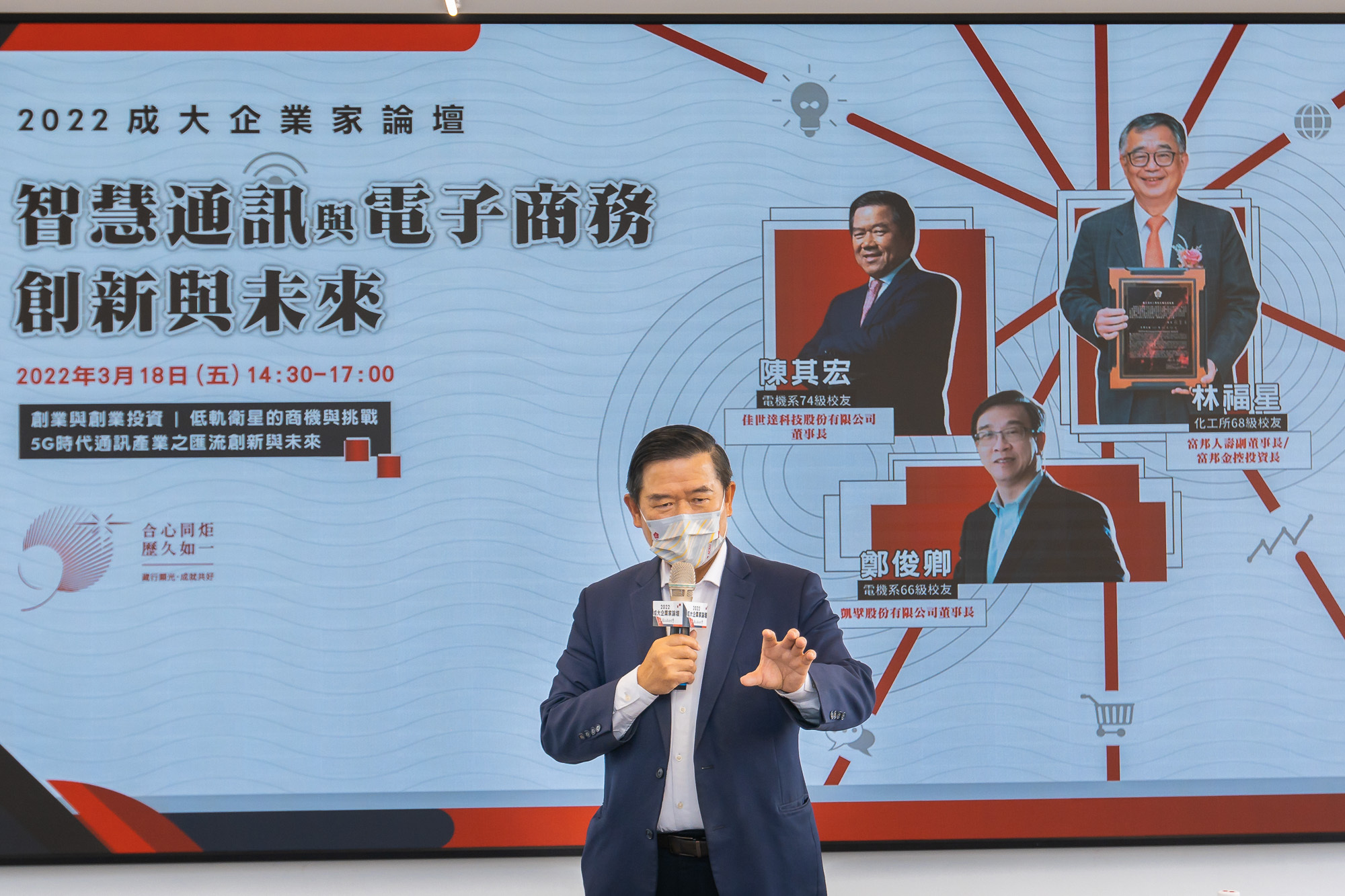 Peter Chen graduated from NCKU Department of Electrical Engineering, he

mphasized "whoever wins the sky, wins the world."