NCKU HDMAPC E-MOBILITY Exhibits Technological Achievements in Developing Foundation for Domestic Self-Driving Cars
Written by NCKU News Center. Image credit to NCKU High Definition Map Research Center.
The whole world is crazy about driverless cars! For this year's "2035 E-MOBILITY Taiwan International Smart Mobility Exhibition", National Cheng Kung University's High Definition Map Research Center (NCKU HDMAPC) published a series of high-definition map technology achievements from projects commissioned by the Ministry of the Interior. These accomplishments will not only lay the foundation for the development of self-driving cars in Taiwan, but also provide opportunities for overseas export and help Taiwan vendors seize business opportunities for a new era.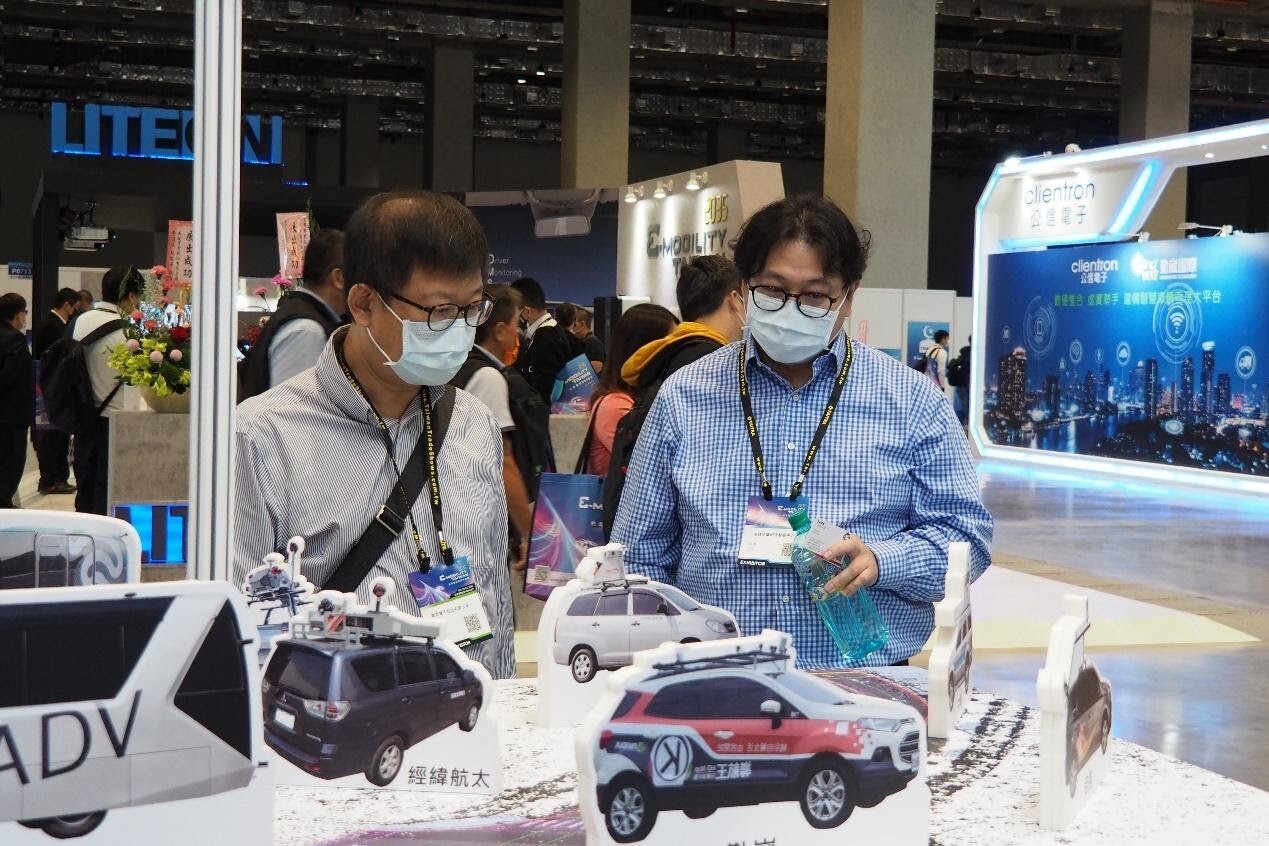 Professor Kai-Wei Chiang (right), Director of the HDMAPC at NCKU delivers a live commentary at the E-MOBILITY exhibition
As modern technology is rapidly progressing, the global automobile and technology industries believe that self-driving cars are an inevitable trend in the next generation of vehicular systems. The NCKU HDMAPC expressed that in order for self-driving cars to operate safely and smoothly, "high-definition map" technology must be able to understand information about surrounding road conditions in addition to the vehicle's own sensors and control systems. "Without the assistance of high-definition maps, a self-driving car will be like a headless fly darting about aimlessly on the road."

What are high-definition maps? According to the NCKU HDMAPC, a high-definition map is a "guide dog" for self-driving cars. Unlike an ordinary map system, high-definition maps must provide self-driving cars with accurate road information in order for the system to successfully make driverless decisions based on overall traffic conditions. "Therefore, compared with the required information for ordinary maps, the required information for high-definition maps is more complicated, and includes information such as road widths, traffic regulations for different roads, and number of lanes. High-definition maps must reflect real world conditions to ensure safe and smooth operation."
High Definition Technology Creates Diversified Value and Extended Applications of High Definition Maps
At the "2035 E-MOBILITY Taiwan International Smart Mobility Exhibition", the NCKU HDMAPC exhibit revolves around three major facets: "development of high-definition mapping standards and smart mobility mapping technologies", "development of software and hardware design integration for key inertial navigation systems", and "graphical information standards". In developing high-definition map standards and smart mobility mapping technology, the NCKU HDMAPC uses a third-party crowdsourcing model to develop object identification technology based on vehicles such as buses, road inspection vehicles, and self-driving cars in order to identify variants of high-definition map objects.

The NCKU HDMAPC also uses positioning technology, such as Beacon and PDR, and base maps created from mapping technology in mobile applications of indoor navigation services. Following a collaboration with the Tainan Bureau of Land Administration's Dong-Nan Land Office in 2020, the public can use a mobile app to navigate to service windows. In cooperation with the Taoyuan Airport MRT this year in 2021, the NCKU HDMAPC has developed indoor guidance and navigation functions to help travelers determine their location, to allow them to choose points of interest near the MRT station, and to guide them to the appropriate exits quickly and conveniently.

At the "2035 E-MOBILITY Taiwan International Smart Mobility Exhibition", the NCKU HDMAPC revealed autonomous multi-sensor and software/hardware design integration developments in key inertial navigation systems. Among them, the mapping-level and self-driving-level INS/GNSS navigation systems can import navigation algorithms into embedded systems in real time. In addition to faster information updates, the expansion of multiple sensors such as wheel speedometers, cameras, and LiDAR, and the integration of high-definition maps make the self-driving system even more comprehensive. In addition to complete technical upgrades, the NCKU HDMAPC has also developed a precision verification and results analysis program for post-track processing in order to facilitate the testing of real vehicles, significantly lowering costs compared to existing products.

As for map data standards, NCKU HDMAPC's high definition Taiwan map framework commissioned by the Ministry of the Interior has four major facets: "high-definition map content and format standards", "high-definition map charting and operation guidelines", "high-definition map verification and validation guidelines", and "update and verification guidelines for high-definition maps (static maps)". Hopefully, the production process for Taiwan's high-definition maps will be able to fulfill the accuracy and verification needs of future high-definition maps used by self-driving vehicles.

The NCKU HDMAPC and Nagoya University of Japan have worked hand in hand to develop an automated production model for high-definition maps. Manufacturers can use multiple sensors to collect relevant data, and then perform automatic extraction of objects and data fitting according to the format specified by the system. Through quality verification mechanisms, high-definition maps that conform to OpenDRIVE and Autoware formats can be produced automatically, lowering the production costs and time associated with traditional high-definition maps.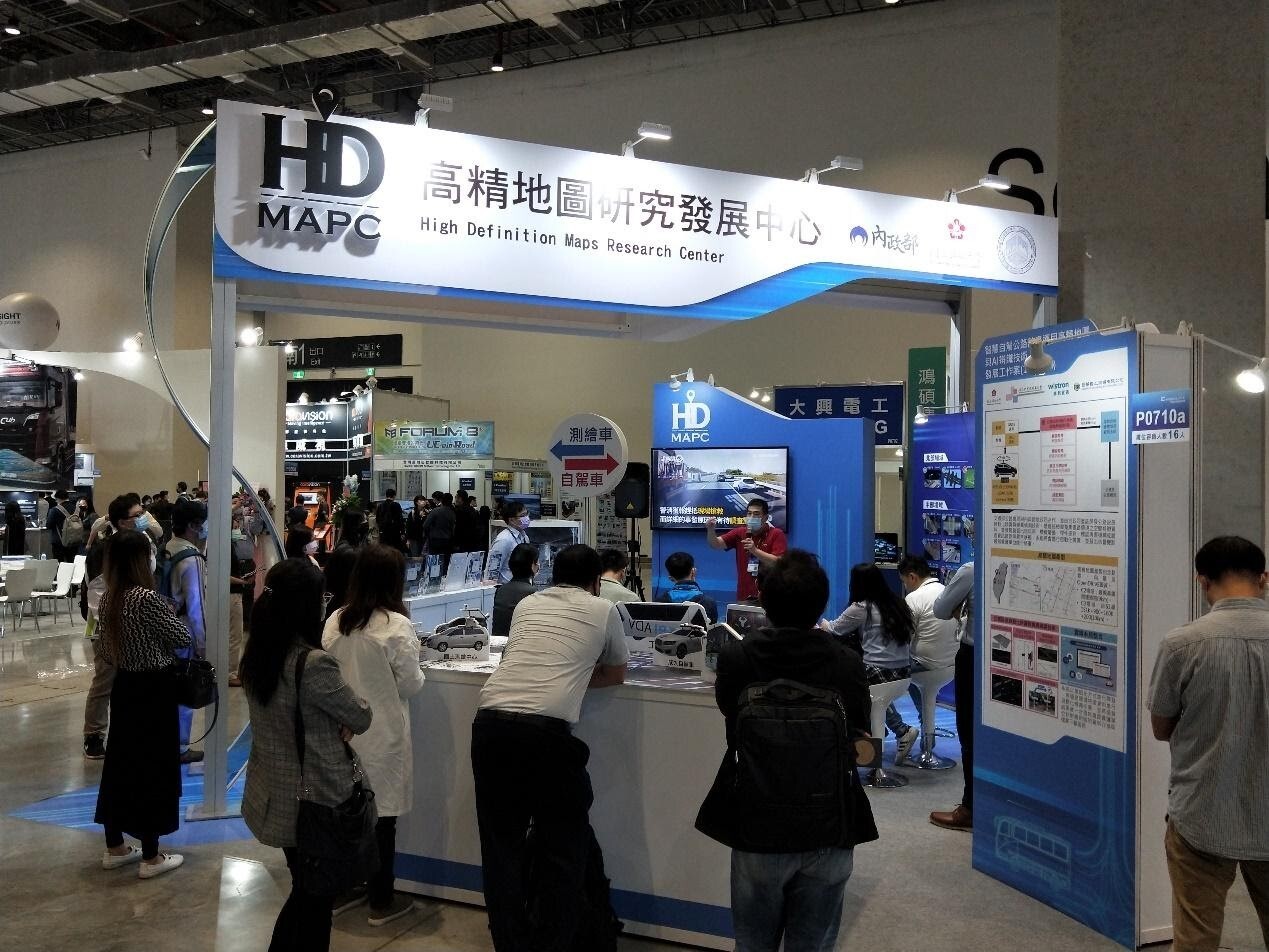 Dr. Long-Yao Zhang from the Taiwan Car Lab is present to share the only "self-driving driver training course" in Taiwan
High Definition Map Integrated with Artificial Intelligence to Identify Road Conditions
The NCKU HDMAPC also applies high-definition maps and AI recognition technology to smart roadways in cooperation with the Directorate General of Highways of the Ministry of Transportation and Communications and through a commission from the Ministry of the Interior to develop "Automatic Variant Detection Technology for Highways". By gathering spatial characteristic data of highway environments through highway inspection vehicles, the system can automatically identify and upload relevant information about abnormal conditions (such as potholes, blurred or distorted signs, and road signage errors) to a cloud platform that alerts maintenance units to conduct repairs.
The NCKU HDMAPC indicates that high-definition maps are foundational to the development of self-driving cars. With the full cooperation of the Ministry of the Interior and Taiwan manufacturers, the construction of about 120 kilometers of high-definition maps across Taiwan has been completed. The next step is transferring automatic map generation technology to domestic manufacturers, finding opportunities to export to overseas markets, and allowing Taiwanese vendors to seize various business opportunities and increase market competitiveness in the trending field of self-driving cars.