Torch Flame Goes to Space: Innovative Sports Event by NCKU Space Technology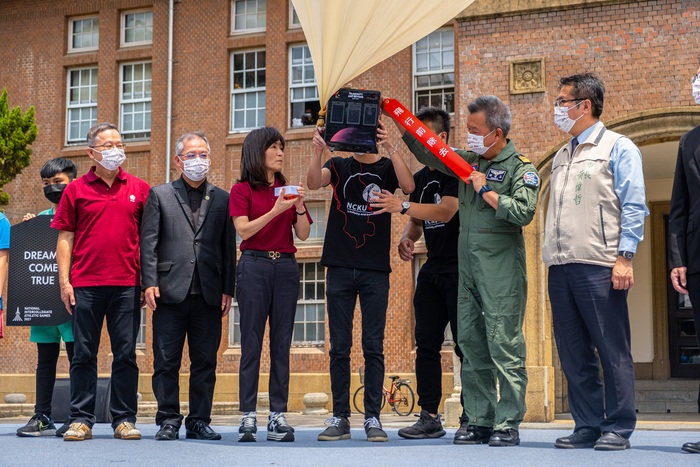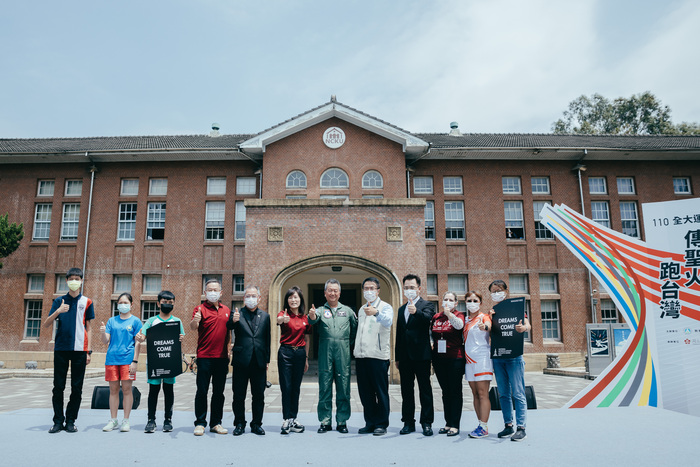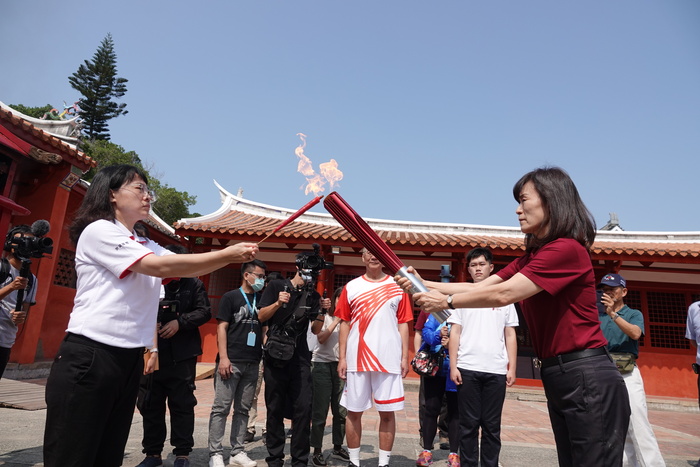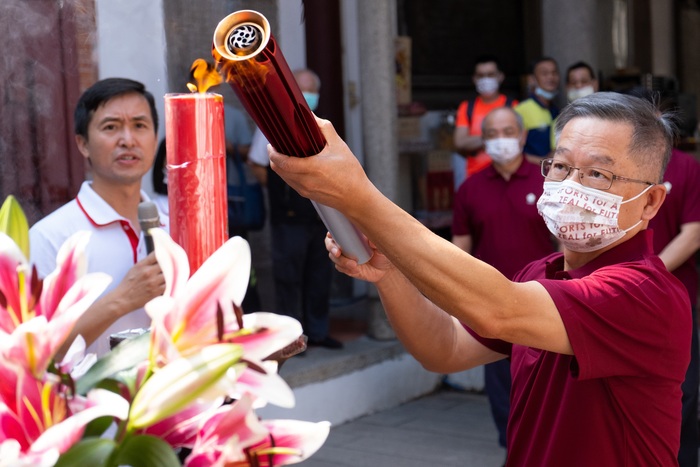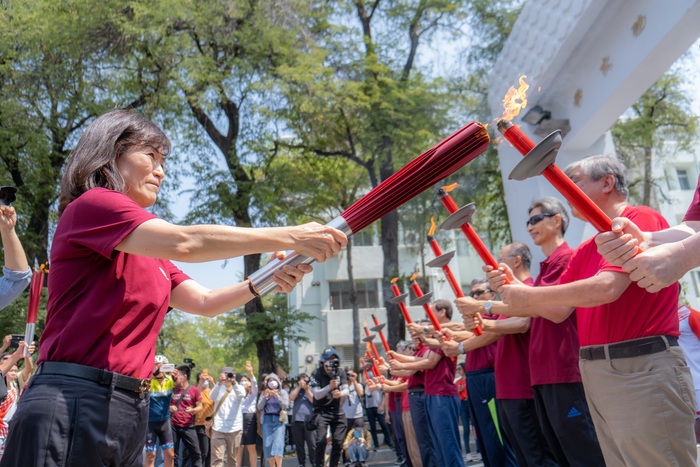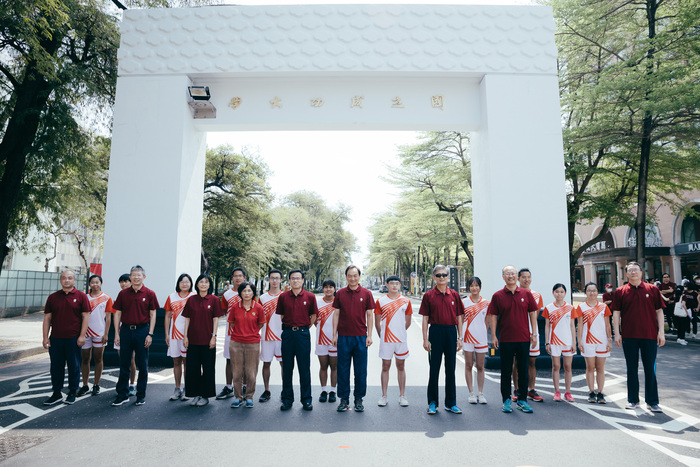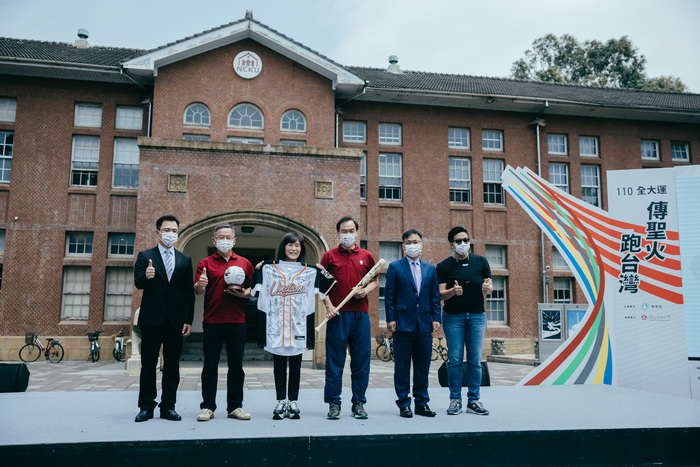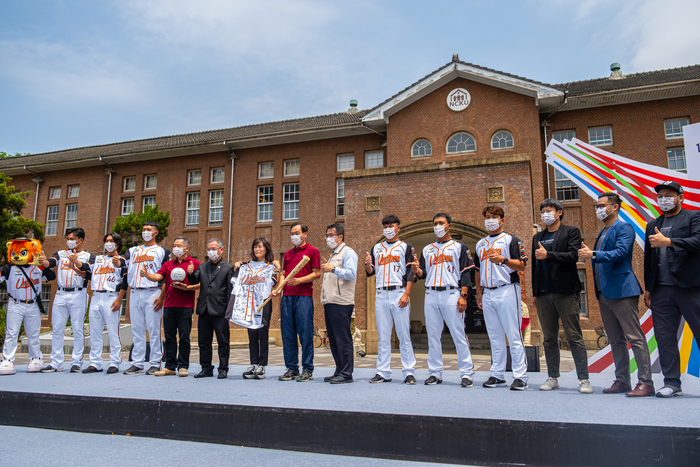 Writing by News Center. Photos by News Center.

The 2021 National Intercollegiate Athletic Games (NIAG) is hosted by National Cheng Kung University (NCKU). On the morning of April 19, the NIAG flame was kindled at Tainan "Wen-Wu" (civil and martial) Temples, followed by a torch relay around NCKU campus, before the torch liftoff ceremony in front of the NCKU Museum. Chief Secretary of the Sports Administration of the Ministry of Education, Ting-Peng Yeh, expressed that NCKU is making three innovative accomplishments for the 2021 NIAG flame. "Wen-Wu" flames kindling and the airborne torch of the 2021 NIAG skillfully integrate culture and technology, bringing the sports games to a higher level via space exploration technologies. He expressed appreciation for NCKU utilizing smart technologies to contribute to the flourishing progress in sports in Taiwan. The torch relay around Taiwan demonstrates enthusiasm and passion for new hopes for future sports education, successfully creating an innovative paradigm for sporting events.
NCKU Smart Technology at 2021 NIAG: A New Model for Innovative Sports Event

For the first time in history, the torch of the National Intercollegiate Athletic Games (NIAG) goes into space! This is the second time NCKU is hosting the NIAG, the first time being 40 years ago. NCKU president Dr. Huey-Jen Jenny Su stated that 40 years ago, NCKU had the most educated torch bearers in Taiwan; 40 years later, joint efforts of NCKU faculty members, students, and alumni as well as various industries have merged technology and culture to send the 2021 NIAG torch into space via sounding balloon, in hopes that NCKU will carry on its proud history of 90 years and continue being a force that the world trusts.

The NCKU sounding balloon team is led by Associate Professor Bing-Chih Chen of the Department of Physics and Distinguished Professor Charles Lin of the Department of Earth Sciences. Combining technologies such as global atmospheric forecast system (GFS) and Global Positioning System (GPS) tracking technology, the 2021 NIAG flame was converted into a smart LED flame by NCKU president Dr. Huey-Jen Jenny Su and placed on a sounding balloon alongside a batch of T700 aerospace-class space wishing cards, made by the Aerospace Industrial Development Corporation (AIDC), Taiwan's leading light in aerospace technology. The prayers and blessings from the nation, academia, athletes, and future pillars of society slowly took off, flew over the Central Mountain Range, and would be retrieved after landing in the Huadong Valley.

Before liftoff, AIDC chairman Kai-Hung Hu, donning a pilot suit, removed the flight streamers from the NCKU sounding balloon as a symbol of confirming flight safety. A tiny-size video transmission module sent back aerial view from the balloon in real time, provoking a stir of excitement among 60 senior and junior high school students witnessing the technological power of Taiwan. Some students even expressed their resolve to become brilliant scientists in the future.

In 2021 NIAG, NCKU applies its technological power to boost the future development of sports in Taiwan. Dr. Cheng-Wen Wu, the Executive Director of 2021 NIAG and NCKU Vice Executive President, attended the torch liftoff ceremony on the 19th together with Keep Tossing Lab, an alumnus-organized startup dedicated to scientific baseball training. The two will jointly develop an indoor intelligent technology baseball training center to create an unprecedented smart venue for NIAG. This center will serve local professional baseball teams, the NCKU varsity team, and other baseball players on various levels to enable more effective training, enhance user experiences in professional competition and smart leisure sports, and turn NCKU into a sports science center for baseball in Taiwan.
"Civil" and "Martial" Flames Kindle the Enthusiasm for Torch Relay around Taiwan

The torch of the 2021 NIAG and NCKU comprises a "civil" flame and a "martial" flame, which are kindled at the Tainan Confucian Temple and the State Temple of the Martial God, respectively. On their way, the flame bearers passed by essential historical sites in the West Central District and the East District of Tainan City, rendezvous on Cianfong Road behind Tainan Railway Station, and then made their way along Dasyue Road to its intersection with Shengli Road. Under NCKU's Memorial Gate, the bearers of the "civil" and "martial" flames lit the torch held by NCKU president Dr. Huey-Jen Jenny Su, representing NCKU's 90-year-old roots in Tainan and the merging of "civil" and "martial" spirit.

Mayor of Tainan City Wei-Che Huang expressed that Tainan is not only an ancient cultural capital with 400 years of history but also a smart city full of technological energy. The liftoff of the 2021 NIAG torch will show the world Tainan's enthusiasm for sports and its future prospects. Wei-Che Huang warmly invited all people to visit Tainan in May.
Torch Relay around Taiwan: Support for Future Sports

From April 20 to May 8, the 2021 NIAG torch will be passed around the island of Taiwan, traveling a total of 1,168 km over the course of 19 days, passing by 30 universities and 19 cities and counties. The bearers will include 60 runners and 10 cyclists divided into 5 shifts. Along the way, they will visit various NCKU alumni associations around Taiwan and travel around Taiwan with steady steps, basking in sweat and enthusiasm for future sports.

Recent developments in sports have focused on scientific training, training and protection integration, and data-based talent selection. With the rich research and development energy of NCKU, NCKU president Dr. Huey-Jen Jenny Su expressed that the fund-raising made through the torch relay around Taiwan is expected to provide young athletes with more resources and enable Taiwanese athletes to shine in sports events.

At the torch liftoff ceremony on the 19th, six players and representatives from the 2020 Chinese Professional Baseball League champion, the Uni-President Lions, gave away signed uniform, baseball, and bat as the beginning for torch relay fund-raising. Scientific training can improve athlete performance. The athletes running the torch relay around Taiwan over the course of 19 days bears respectable strong spirit. The Uni-President Lions takes the lead in devoting themselves to future sports education and cheering for Taiwanese athletes!

NCKU's support for future sports through torch relay around Taiwan has a profound meaning. It has received the solid support of the Uni-President Group, 7-Eleven, Bank SinoPac, who have together launched three innovative ways for fund-raising: ibon, the OPEN POINT app, QR code scan donation (online donation platform by Bank SinoPac), and Apple Pay credit payment. With these diverse and convenient ways of donating, the public is invited to care for and support future sports education in Taiwan.

Aggregating the efforts of many, NCKU has worked hard to pave the way for exciting major sporting events at 2021 NIAG. At 9:30 AM on the 19th, the "civil" and "martial" flames were retrieved, followed by a torch relay around the campus, radiating the passion and vigor of the NCKU campus. NCKU president Dr. Huey-Jen Jenny Su and the Queen of Ultramarathons, alumna Ya-Fen Wang, lit the mother flame of 2021 NIAG together. An overnight at the NCKU Museum on the night of the 19th offers a number of activities for all take part in, such as fire dances, pop music, and a night tour of the NCKU campus. In cooperation with Hahago, Taiwan's largest sports life platform, an online sports meet will be held so achieve the goal of "Sports for All" both physical and virtually, creating a new NIAG for all athletes and citizens.